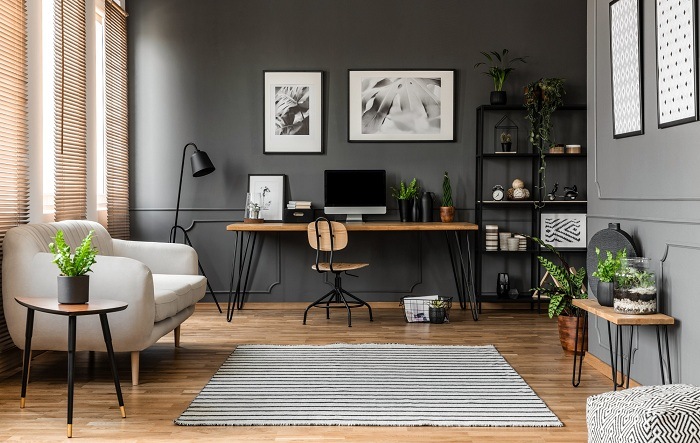 It's here! Back-to-school season has kicked in. For most of North America, kids returning to school ties in to our familiar rhythms of formative years, where our brains naturally move into the pattern of focused study and work spaces.
So what does that mean? It means August and September are also the perfect time to channel some of that energy into prepping for your home office, whether it's for you personally or there's a young student in your home who can benefit.
We absolutely love the look and feel of all things home office, found in this post. Here are a few of our favorite tips and ideas:
1. Start with the desk.
Of course, this is predicated on being able to get creative while sitting still. With that, know that having a desk isn't the only option for a workspace. You might also try to repurpose a vanity, upgrade a simple table, or install a floating desk with a board and some brackets.
2. Add in some natural elements.
Should you add fresh greenery or fake foliage? That honestly all depends on your personal preferences. Not only do plants provide oxygen and look gorgeous, working near an open window with lots of natural light coming through can improve your health and even help reduce anxiety.
3. Comfy counts.
Consider the upgrade for your desk chair to help you focus, and splurge on that fantastic-looking rug you've had your eye on. Treat yourself like the company boss you know you are. Prone to moving around a lot? You might try a standing adjustable desk like this one.
4. Keep it simple.
In other words, less is more. A Mayo Clinic study found that de-cluttering can have as much of an effect on your well-being as it does on the physical space you're cleaning. Clean, minimal lines and simple lighting goes a long way toward boosting productivity and enhancing one's mood.
If you're planning a future move in or around Pittsburgh, we'd love to assist you! At George Moving & Storage, we're committed to providing quality service for our customers. When you need to find movers or relocation services in any pocket of Pittsburgh, southwestern Pennsylvania, northern West Virginia or eastern Ohio, we'd love to talk! We offer free estimates — whether you'd like in-person or virtual, depending on your schedule. Just visit our website, or give us a call today at 800-810-2635.
Subscribe to George Moving and Storage's Blog